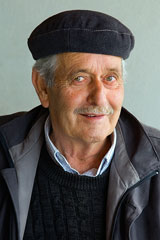 This photograph of an elderly man in a black beret is isolated on a gray background. Run your fingers over the map of Europe, and decide where you want to go. Do you want to visit the Eiffel Tower in Paris, France, go to the opera in Vienna, Austria, or take a romantic gondola ride in Venice, Italy? Whether you are looking for outdoor adventures or the culture, art, restaurants, and shopping that major metropolitan areas offer, Europe has something for everyone. Fly to Europe from major international airports in the United States, then hop a train and check out all of the countries and attractions that Europe has to offer.
Search Results
---
Use the search box on this page to find information about Europe.
Copyright © 2010-2022 Map-of-Europe.us.
All rights reserved.

Map of Europe - Custom Search Results